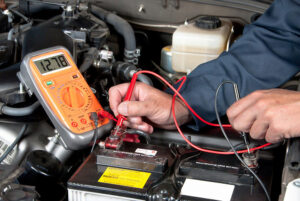 From batteries and starters to radios and windshield wipers, your car depends on electricity to function properly. When your vehicle's electrical system starts to fail, it not only changes your driving comfort, but can also be a serious situation if it's not dealt with quickly. We know electrical systems and our location is outfitted to handle almost any problem.
Saga Auto  is the right combination of experience, knowledge, and professional automotive equipment. Our electrical specialists have seen almost every imaginable electrical issue and know how to fix them all. Armed with electrical diagnostic equipment that makes it easy to isolate underlying causes, you'll be back to the streets sooner than you think.
Dimmed headlights, broken turn signals, and dysfunctional door locks are just a few of the common electrical and electronic problems that we can repair, but we're open to any electrical challenge. Give us a chance and you'll see why so many people  trust us for their electrical and other automotive work.
The

Best Auto Repair Service
See What Our
Customers

Are Saying
The team at Saga auto did an excellent job in assisting us with our repairs. We highly recommend them to all of our friends family.
I couldn't of asked for a better team to fix my car. They moved quickly and were extremely affordable. Highly recommended!
Went for an oil change. Was very satisfied with the service provided. We'll definitely be using Saga Auto for all of our car needs moving forward.