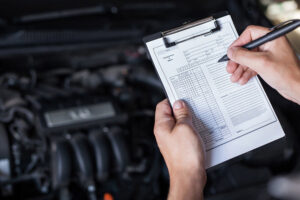 Your braking system may be the most important component of your vehicle. It's crucial that your brakes are maintained regularly to ensure the safety of you, and others on the road.
Maintenance to your braking system can range from a simple clean and service, to a full four wheel brake replacement. Vibrations, squealing, and "metal on metal" sounds are all signs that your brake system needs attention.
At Saga Auto, we offer complimentary disc brake inspections and our technicians will provide you with a professional honest brake life report. If your brakes need replacing, we'll offer you competitive pricing, and always provide you with high quality brake part choices.
The

Best Auto Repair Service
See What Our
Customers

Are Saying
The team at Saga auto did an excellent job in assisting us with our repairs. We highly recommend them to all of our friends family.
I couldn't of asked for a better team to fix my car. They moved quickly and were extremely affordable. Highly recommended!
Went for an oil change. Was very satisfied with the service provided. We'll definitely be using Saga Auto for all of our car needs moving forward.